Sifu Bill NG(比爾.吳) was born in 1988, and has rich qualifications in Chinese & exotic Martial Arts with over 10 years teaching experiences. In order to pursue the ideal, Bill NG chose to say good-bye to the increasing competitive-oriented training, then he puts the Highest Spirit on studying Okinawa Karate-Do and Traditional Chinese Martial Arts with a beginner's mind, and now Bill NG is a Researcher of Uechi Ryu Karate (private student of Sensei Robert (Bob) J. CAMPBELL), and the 7th Generation of Pak Mei (White Eyebrow) Kung Fu (indoor disciple of Master LI Shek-Lin under KWOK Chi-Cheong's lineage). After years of studies, Bill NG is authorized by his two teachers to teach two styles of martial arts separately, and to preserve the martial arts knowledge & spirit handed down from generations to generations.
  "
Pak Mei (White Eyebrow) Kung Fu - Hands & Weapons.Traditional Chinese Martial Arts Class
" - Sifu Bill NG's teaching direction is about
Self-improvement (mind, body, spirit) & Self-defense techniques (street smarts, awareness, survival)
. At the same time, Bill NG pays attention to
Kung Fu cultures & actions
, and concerns student's personal growth, targets & developments. In addition to teaching groups, Bill NG can teach private classes for individuals. Besides, Sifu Bill NG developed a set of kungs and techniques called "
Dragon & Tiger Methodology
"
(Non-Pak Mei course)
, and would like to pass this treasurable method to the loyal & good students under the fate.
* The pattern of private class is mainly about
one-on-one
or
one-on-two
teaching, which is designed for the students who look for
high privacy, flexible training time & place, and more learning opportunities
. Private students are allowed to hide their identity in the student's list.
Pak Mei History

Grandmaster
CHEUNG
Lai-Chuen
(1882-1964)
  Grandmaster CHEUNG Lai-Chuen came from Huizhou of Guangdong in China. When Grandmaster CHEUNG was young, he learned three types of martial arts seperately from three different sifus: Sifu LAM Shek of Vagabond style, Sifu LEE Mong of Huizhou LIs family style, Sifu LAM Hap of Boluo Lams family style. It was told that Grandmaster CHEUNG also learned Pak Mei (White Eyebrow) martial arts from the Zen-Buddhist Jook Fat Wun (Legendary story: Pak Mei martial arts was created by the Great Monk Pak Mei, who went to the Emei Mountain and practised the Shaolin martial arts which he studied from the Shaolin Temple in the old days. The Great Monk Pak Mei passed his martial arts to the Zen-Buddhist Kwong Wai, and then Kwong Wai passed it to Jook Fat Wun).
  Having great result in martial arts studies, Grandmaster CHEUNG served as the Martial Arts Instructor in both Yantang and Whampoa Military Academy, and also established the Lai Chuen Chinese Martial Arts Society in Guangzhou during 1912. Grandmaster CHEUNG mastered and integrated the martial arts styles he had learned, then he founded "Pak Mei Pai" which was officially named later. The Great Monk Pak Mei is titled as the First Head of Pak Mei Pai, the Zen-Buddhist Kwong Wai is titled as the Second Head, the Zen-Buddhist Jook Fat Wun is titled as as the Third Head, and Grandmaster CHEUNG is the Fourth Head (Non-Monk). In 1949, Grandmaster CHEUNG migrated Hong Kong together with his family members and some of his disciples, thus the Pak Mei (White Eyebrow) Kung Fu is allowed to be passing and spreading in Hong Kong.
Introduction of
Pak Mei Kung Fu
  Pak Mei (White Eyebrow) Pai is one of the Southern Chinese martial arts styles which emphasizes the Short Bridges kung fu, and it mainly focuses on closing the distance for powerful short hands combat. The fighting rhythm and tactics of Pak Mei are quite offensive that the method of the hands is flexible, fierce and explosive, as well as the track of the hands is continuous and unpredictable. In Pak Mei, there are some signature hands techniques: Phoenix Eye Punch, Eagle Claw, Tiger Claw, Stab Palm, Push Palm, Rush Punch, Whip Bridge, etc... and it mostly uses the Non-T and Non-pigeon toed shape as a high stance for steps moving and pressing, together with the hands movements for pursuring, grabbing and striking the opponent. There are also some sayings of knack in Pak Mei: "The two hands shall not be returned and shall be changed anytime, press the steps and move your bridges then your opponent can have nothing to do", "When there is a bridge, walk on it(or walk under it). If there is no bridges, create your own bridges".
  The Methodology of Pak Mei Kung Fu strives for Three Shapes "Circle‧Flat‧Thin" in body structure, Four Flows "Swallow‧Spit‧Float‧Sink" in body mechanics, Six Strengths "Neck‧Shoulder‧Waist‧Back‧Hands‧Feet" in body coordination, and Eight Techniques "Whip‧Chop‧Pull‧Crash‧Bounce‧Twitch‧Twine‧Rush" in hands methods.
  In the Hand forms of Pak Mei, the Straight Step form is considered as an important basic form from the beginning. The poem: "Straight Step form is to build Strength, the Swallow‧Spit‧Float‧Sink are all included. If you want to enter the gate of Pak Mei and to seek its skills, you shall first pay efforts on Straight Step form". Regardless of gender, every normal Pak Mei practitioners would practise both internal & external ways, and if they understand the methods, as well as practise often, they would gain strength from healthy mind, body & spirit.
KWOK's lineage Pak Mei
(Guangzhou ➜ Hong Kong)
Sifu Bill NG's martial arts forms demonstrations
(year 2013, 2015, 2017, 2018) of
KWOK's lineage Pak Mei Kung Fu under Master LI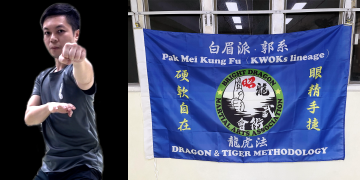 - Sifu Bill NG(比爾.吳) -

The 7th Generation of
Pak Mei (White Eyebrow) Kung Fu
(Indoor disciple of Master LI
under KWOK's lineage)

The Ambassador, the Official
Hong Kong & Macau Representative
of Uechi-ryu International under
Sensei Robert (Bob) J. CAMPBELL

The Recognized Instructor of
Uechi Ryu Karate
(First ethnic-Chinese black belt
instructor in Hong Kong & Macau)

Private Martial Arts Teacher
(Hands, weapons and self-defense)

Holder of Bachelor of Arts
(Honours) in Social Science

---
- Attended events


(Martial arts demonstrations)

-



Law Firm Banquet

Chinese New Year Family Day
(Asia Society Hong Kong Center)

Martial Arts Festival
(The Hong Kong Jockey Club)

Hong Kong Culture Festival

Kung Fu Corner
(Leisure and Cultural
Services Department), etc...




Pak Mei's old Motto
in KWOK's lineage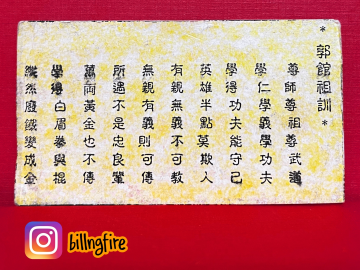 KWOK's lineage
Pak Mei Kung Fu under Master LI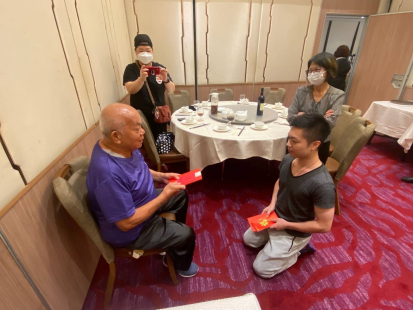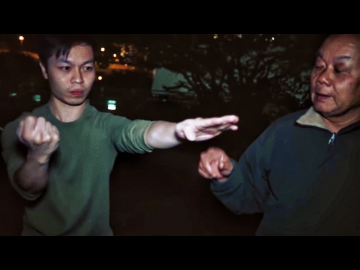 KWOK's lineage
Pak Mei
(Course details)
LIs Pak Mei
8 Techniques
Soft Palm, Back Sword, Intercepting Bridge,
Back Hammer+Seizing Hit, Seizing Hit+Interjecting Rub,
Rubbing Bridges, Swing Elbow,
Interjecting Hands+Pushing Palms.
LIs Pak Mei
Basic training
Swing Hands, Push Hand, etc...
Hands forms
Straight Step form, Three Doors form, Cross Fist form,
Eagle Claw Sticky Bridges, Four Doors Eight Trigrams,
Nine Steps Push, Five Styles form,
Eighteen Rubbing Bridges, Tiger Steps Rubbing Bridges,
Fierce Tiger Exits Forest, etc...
Weapons forms
Battlefield Staff, Lock Throat Spear,
Double Waist Broadswords, Pak Mei Sword, etc...
Dragon & Tiger
Methodology
(Non-Pak Mei)
Dragon & Tiger
6 Kungs
Swim Dragon Posture, Dragon Tail Kung,
Dragon Claws Kung, Azure Dragon Armor,
Gold Tiger Kung, Double Tiger Kung.
Rubbing Posture
2 Kungs
Forearms Rubbing, Shock Hands Rubbing.
Dragon & Tiger
4 Techniques
Swim Dragon Arms, Swim Dragon Palms,
Tiger Knuckles Punch, Tiger Tooth Hammer.

[Note]

"Dragon & Tiger Methodology" is a treasure of Kung Fu Method developed after Sifu Bill NG completed the sorting of essence of both "Dragon Methodology" and "Tiger Methodology" in 2022. Bill NG named all the kungs & techniques with Chinese.
  - "Dragon Methodology" refers to the Body Control Methods that Sifu Bill NG developed from matching up the image of the Oriental (East Asia) Dragon in Chinese legend to his years of experiences in Chinese & exotic Martial Arts studies.
  - "Tiger Methodology" refers to the unique, Mechanics-based Uechi Ryu Methods developed under Sensei Robert (Bob) J. CAMPBELL, the 1980s Uechi Ryu Official Hong Kong Representative (appointed by Master Kanei UECHI, the Second Soke of Uechi Ryu).
Make contact with Sifu Bill NG

WhatsApp / Signal (+852):
9213 7238

WeChat ID:
southkungfu

LINE ID:
southkungfu

Instagram ID:
billngfire

Email address:
billngfire@gmail.com
* Self-organized class(es) or other cooperations are welcome to be discussed separately.